A priest's 25th Anniversary of Ordination is a very big milestone for him. His parish, church, or community usually has a special event for him. If you are a part of this community, you will be aware of it and will want to attend. A card and gift is appropriate to bring. Often a check, or gift card is appropriate, but other gifts as well to commemorate this anniversary of his ordination are also appropriate. Catholic newspapers will publish the priests who are celebrating their jubilee year anniversaries. People will know priests long after they have had direct contact with them.
So a card is very much appreciated from all people who have known a priest. It is a time for the priest to reflect on his 25 years in the priesthood, and it is important to let him know how much his service to the people of God is.
What do you say in a card for a priest's 25th Anniversary of Ordination? Being specific about your interaction with him and the blessings he has bestowed on your life and your family will be greatly appreciated. He may or may not remember your name, but it is a good idea to be specific and relate your relationship with him. An example of this may be:
Thank you Father James for your 25 years of service to the church and God's people. You Baptized our daughter, Catherine, and son, Joshua, during your ministry in St. John's parish. We look back on those pictures with joy and blessings, knowing that you will always be a special part of our family."
It is often hard to find cards or much of a selection in card stores, or you may not have the opportunity to get to a card store with those cards. Here is a selection of cards from reputable card companies to send to a priest on the twenty-fifth anniversary of his priesthood.
You can click on the card or the title and go to the card sites with additional card selections for priests.
These first 2 cards for a priest's silver jubilee celebration are from Sandra Rose Designs - my own site. Below that, are Greeting Card Universe and Zazzle, where I also sell my cards, but have a large selection of other cards to choose from.
This blue and silver card has swirls and flowers on it, and is truly a special anniversary blessing card for a priest's 25th or silver jubilee year.
This purple card has a windowpane effect with the cross. Through the "windowpane" look is a field of flowers, signifying the field of blessings.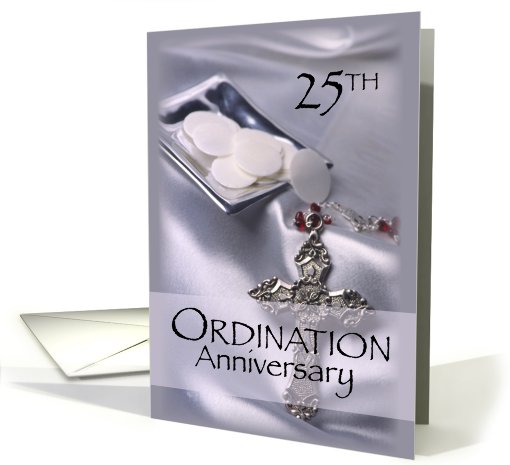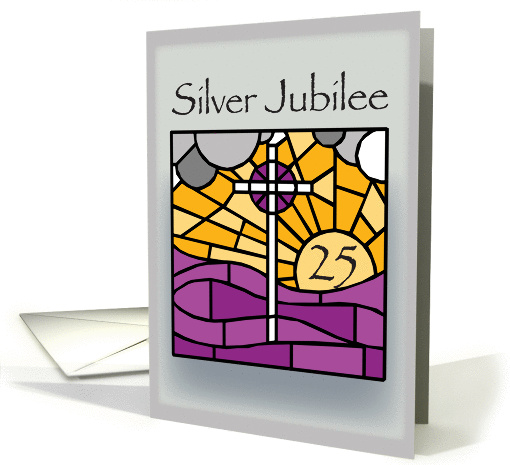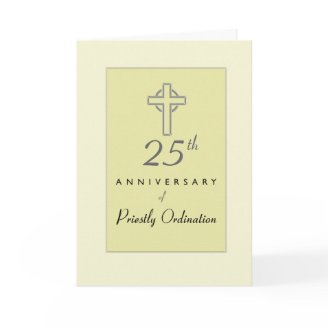 Gifts for a priest can include gift cards to a local restaurant, bookstore, or other store if you know his interests. Also think about a gift card to Amazon, Ebay, or other online site. Here is a site that gives some specific ideas and links where they can be purchased. They are for a priest's 50th anniversary, but are just as appropriate for a Catholic Priest's 25th Jubilee.